«
News
| 20th August 2021
Come Visit us at Perth Skills West Careers & Employment Expo 26th – 28th Aug 2021
If you Missed us this time, Hope you can make it next year.
12-13th August 2022
Women in Aviation Careers will be at the
Perth Skills West Careers & Employment Expo, Perth Convention Center 26th -28th Aug  from 9-4pm.
Drop by and say Hi!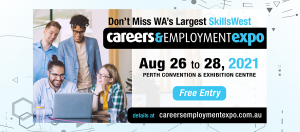 Careers in Aviation are diverse and dynamic so pop by and speak to leading female industry representatives to find out how you can work towards a fantastic career just like they have. Aviation offers a career path for everyone, we look forward to meeting you!
For more information visit;  Perth Skills West